What is the Cape & Islands Connecting Activities Partnership?
The Cape & Islands Connecting Activities Partnership was created in 1996 as a result of the National School to Work Opportunities Act. Currently more than 200 "Employer Partners" work with us to provide approximately 400 paid and unpaid internships. Working together, the partnership provides students the experiences that impact the knowledge, skills and attitudes necessary to be successful in the workplace.
Our Partnership brings together schools, businesses, and non-profit organizations to create exciting educational opportunities for students. Connecting Activities is based on the premise that education works best when students can connect their academics to the world of work, their future careers and their daily lives. On the job experiences allow students to explore potential careers, think about their future educational goals and develop skills necessary for success in the workplace; it brings relevance to academic subjects.
Employers support the Connecting Activities Partnership by providing paid or unpaid internships, job shadows, and mentoring for students. By providing these experiences, employers help students understand the connection between school and work, develop their skills and, most importantly, to see how academic achievement impacts their future careers. The program uses the Work-Based Learning Plan and is continuously refined through feedback received from students, parents, businesses and schools. Employers may also support the Partnership by providing externship opportunities, giving educators the opportunity to visit companies and learn firsthand what skills employers are looking for.
Connecting Activities Partnerships help develop communication, teamwork and customer service skills. Through their involvement, employers are taking an active role in preparing their workforce of tomorrow while providing meaningful learning opportunities to the students of today. Participation also strengthens relationships with the local community.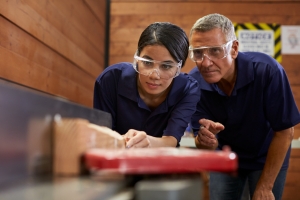 The Cape & Islands Connecting Activities Partnership is part of a Department of Elementary and Secondary Education initiative designed to drive and sustain the statewide school-to-career system, working in partnership with the Executive Office of Labor and Workforce Development. The program establishes public-private partnerships through the local Workforce Boards to connect schools and businesses to provide structured work-based learning experiences for students that support both academic and employability skill attainment. Locally, the Cape and Islands Workforce Board is responsible for overseeing the Connecting Activities Partnership along with all publicly funded vocational education and training programs, ensuring that public sector investments in education and training match up with local private sector needs.