What is Connecting Activities?
Connecting Activities (CA) is a statewide network led by the Department of Elementary and Secondary Education (DESE) and organized through the sixteen MassHire Workforce Boards, charged with supporting work-based learning and other career development education activities for students.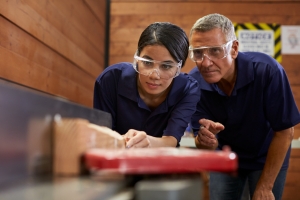 Through the network, educators can exchange ideas and practice by assessing a wide range of tools, resources, and experiences that support students. Also, employers and community partners can find channels to connect with schools in order to promote career awareness and the career growth of local students.
The commitment made by the CIWB to engage regional stakeholders is visible across a variety of career pathways in our young adult programs, leading to a robust and growing list of opportunities that support our vision of "Growing Our Future Workforce."
Schools who partner with the CIWB on the CA Initiative, utilize the Massachusetts Work-Based Learning Plan (WBLP). A diagnostic document that was developed by DESE through a collaboration of employers, educators, and workforce development professionals. The WBLP is designed to provide structure and depth to work-based learning experiences, as well as measure student progress and development. Students, employers, and educators access the WBLP to set and reflect on short-term and long-terms goals and complete performance reviews.